Okay, so you know how I said I was accepted into the spring semester at Binghamton? And how they almost definitely weren't going to take me for the fall semester?
(I think you know where this is going.)
Well I just received a phone call from the admissions adviser and you guys won't believe who's going to Binghamton this August.
(Me. It's me.)
I've decided to use a bunch of gifs to describe my feelings right now: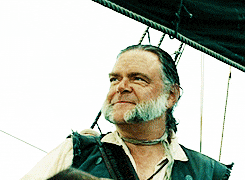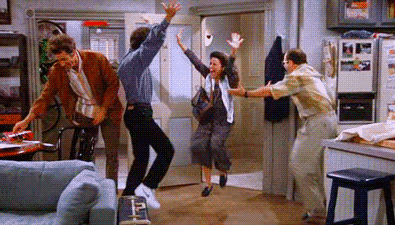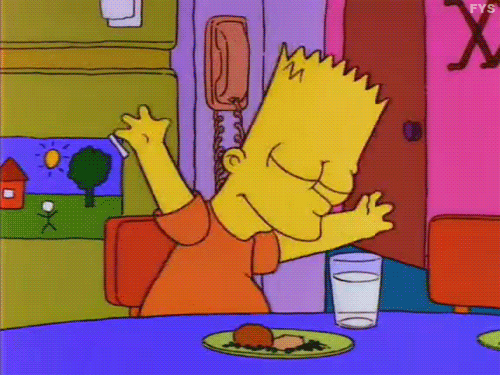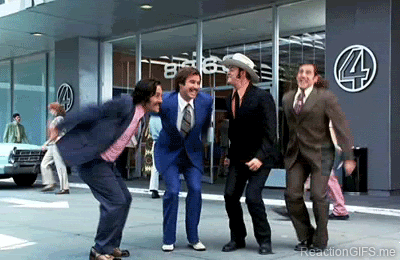 So, yeah. They took me in for the fall semester, for some strange reason. I mean, did they not see my GPA? I am a good fifteen points below the usual range for admitted students. 
But I ain't one to argue with a good thing, so I'll just enjoy this feeling, and hope that they didn't just confuse me for another Matthew Black, one with better grades and more extra-curricular activities. But as of right now, it all seems legitimate, so let this be a lesson to all the younger and more impressionable students reading this right now: don't bother trying.
Judging from my experience, all you have to do is put the bare minimum amount of effort into your schoolwork, don't even bother with any extra-curricular activities, and people will just hand you things on a silver platter. Turns out, life really is all sunshine and lollipops after all.
Okay, so maybe this isn't true, because my laziness over the past two years have really screwed me over when it comes to scholarships, and while the cost of a SUNY school isn't nearly as high as most colleges, it's still pretty high, and it's gonna be rough having to pay that off.
Also, I can't imagine that my college courses are gonna be as easy for me to slack off in as my high school classes, but then again, I don't plan on slacking off this fall. (Because college costs tens of thousands of dollars whereas public high school costs basically nothing.) Then again, I'm afraid I may have lost the studying habits I used to have in eighth grade, back when I thought that dipping below a 90 average would destroy my life. Hopefully I'll go back to that level, because the fear of flunking out should be enough to motive me for at least a semester or two.
*shrugs*
Oh well, I'm very excited right now, for reasons I will list in bullet form:
I'll be able to quit McDonald's in August instead of next January! Which is good because I don't think I could handle an extra five months there. I do plan to work again just for winter vacation, as a lot of employees have done, but hey, absence makes the heart grow fonder, so I should actually enjoy being back at the store for a couple weeks again.

I will no longer be the one child left in the house this fall, meaning that I will not be called upon every single time the lawn needs mowing, or the dishes need to be cleaned.

Mostly though, I just did not expect this to happen, because when I went on tour the admissions counselor told me that it was very, very unlikely that they'd be taking anyone off the waiting list at all, and I had accepted the fact that I'd have to wait till late January to start off on my own. 
I suppose I should mention, though, that my original plan to go on an official hiatus when I started college in August will be happening after all, which means that I only have three months and twenty-ish days left before I say good-bye to this blog forever.
(Okay, not forever, but for at least a couple weeks.)
So I will do my very best to make that time count, hopefully ending these past three years of blogging on a high note. This may be tough, because with graduation parties, a weirdly high amount of birthdays coming up, and the end of high school coming soon, I'm going to be pretty busy.
Knowing my past history, it doesn't seem likely that I can succeed in posting as consistently as I did in my glory days, but I'm currently in an optimistic mood (mostly 'cause of the whole college thing) so I think that maybe, just maybe, I might be able to pull this off.
Until next time,
Matthew Palonius Black.
(Yes, my middle name is Palonius. Don't question me on this.